Greenery wedding decor is fast becoming popular and is set to be a huge trend for 2017 weddings. Not forgetting that it's the Pantone colour of the year too!
The greenery vibes fit so many different styles, be it romantic, hip, boho, rustic, industrial, the list is endless.
The ultimate greenery style (in my eyes) is to add metallic's, in the way of coppers and golds. This screams chic, and there is really no need to add any colours, other than splashes of white…easy!
Bring the lushness of the great outdoors inside your wedding venue, via table runners and chair decor. Being such a cheap decoration/flower you can afford to go big!
Foliage is the new flower! My faves consist of Baby Eucalyptus, Sword Fern, Leather Leaf and the big daddy of them all…Monstera Leaves! Monstera Leaves make fabulous place settings…Botanical Beauty at its best.
Dress simple table plans and wedding cakes with greenery, to create a rustic boho vibe. If you have a show stopping staircase at your venue you must must must dress this with plenty of foliage, take a look at the photo below if you need convincing more!
Wedding Stationery never looked so good as it did with a greenery design. Glam up your invites by adding some copper or gold foil…or simply add calligraphy for a romantic vibe.
When it comes to the bouquet my favourite look is a few large roses, in either white, ivory or pastel shades of peach or pink, with plenty of cascading foliage. Dare devil brides will skip the flowers completely and keep their bouquet purely green…uber pretty!
Styling tip – the more greenery the better! Don't hold back as you may end up looking like a little foliage with not a lot of flower…in other words you'll create an 'unfinished look'.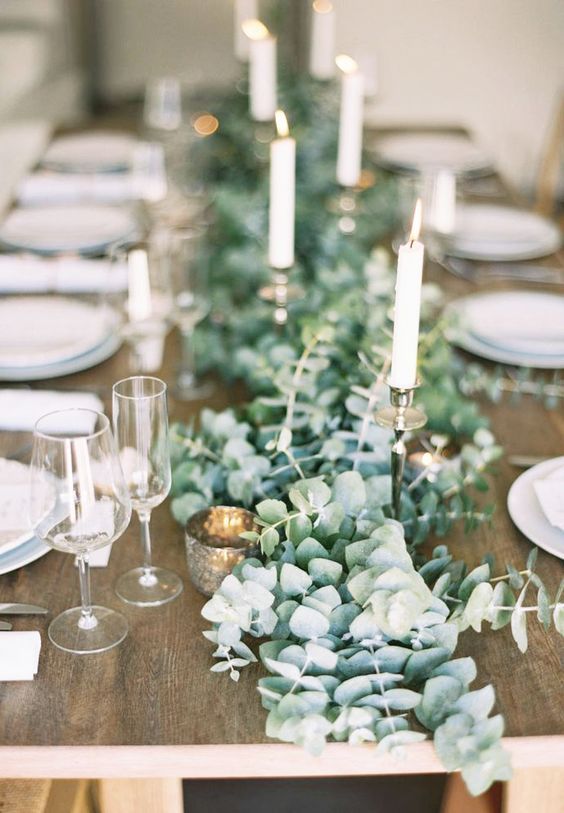 Photo via: Knots & Kisses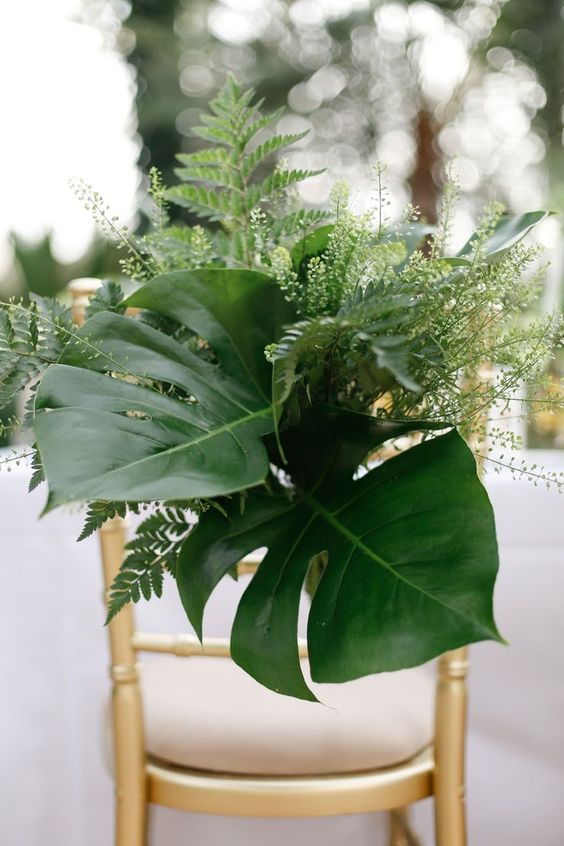 Photo credit: Amy Fanton Photography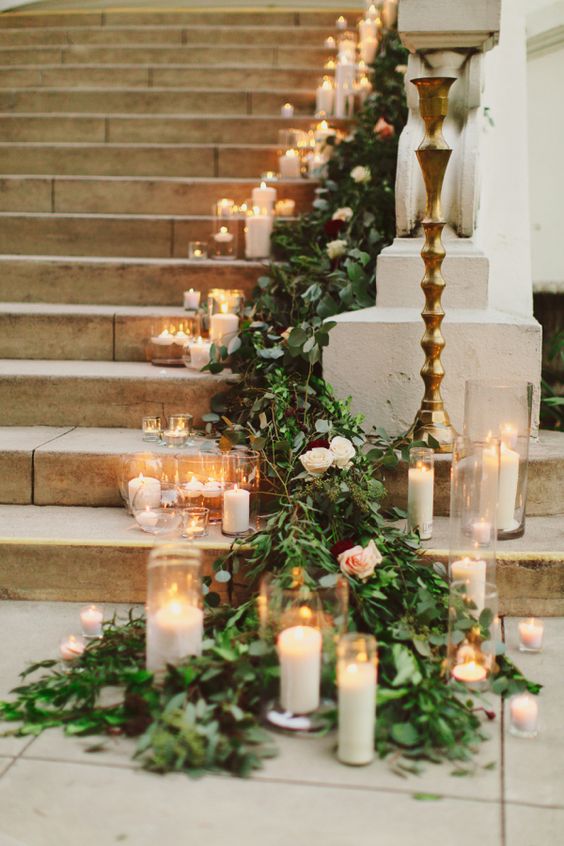 Photo credit: Damaris Mia Photography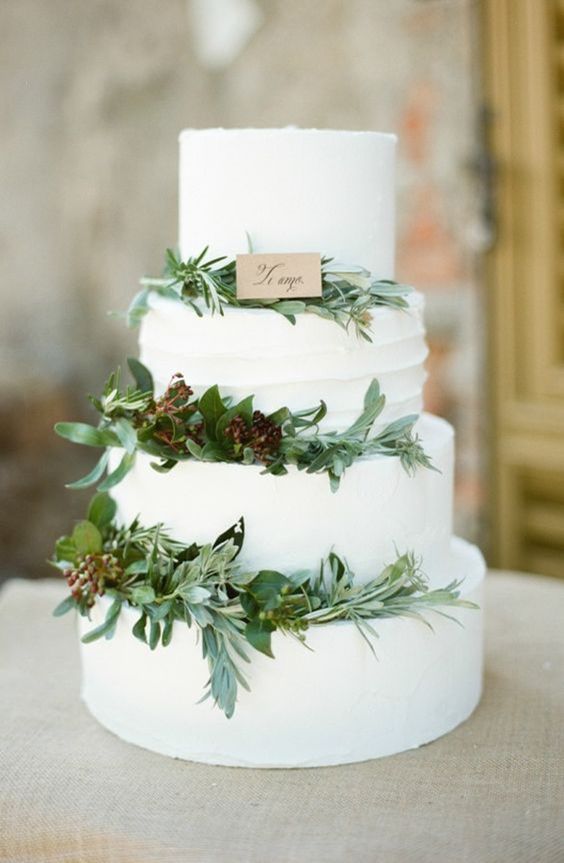 Photo credit: Keira Lemonis Photography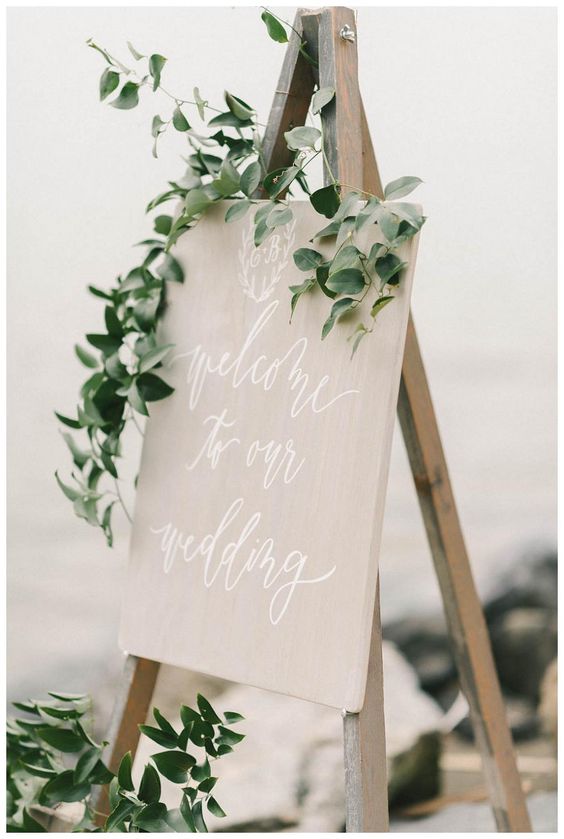 Photo credit: Elizabeth Fogarty Photography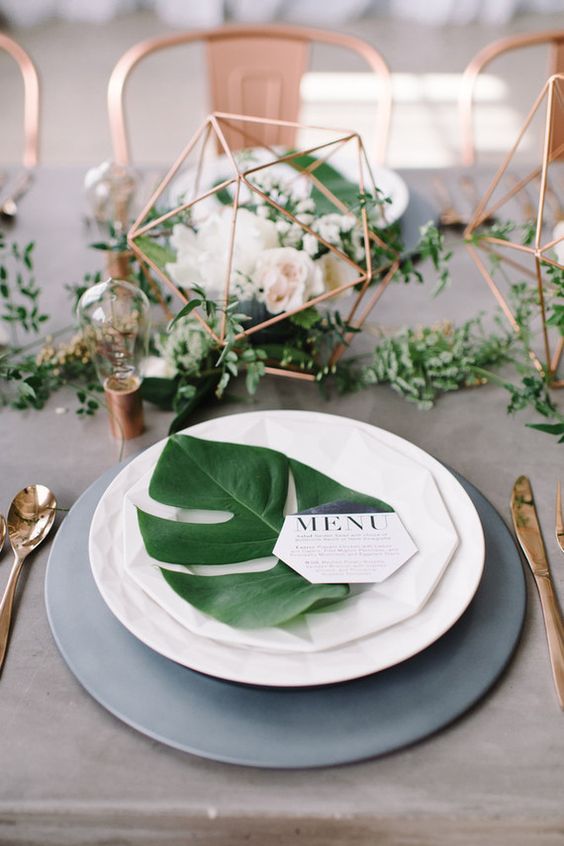 Photo credit: Sarah Street Photography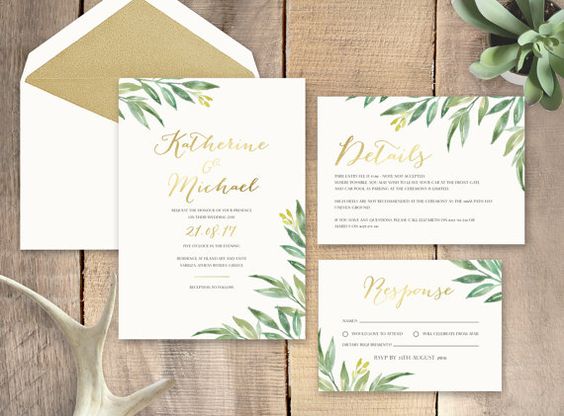 Photo credit: Little Bridge Design via Etsy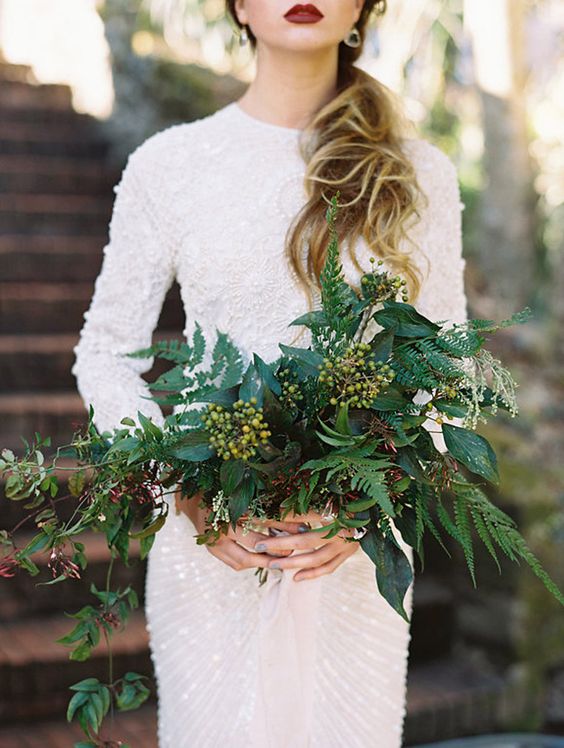 Photo credit: Studio Castillero
---
Something in Verona – Anna & Thom's Wedding
On the 27th July 2016, Anna and Thom got hitched in Verona, Italy, and this wedding was magnificent from start to finish!
They hired an incredible antique Manor House called Villa La Zambonina, situated in Vigasio, Verona. Here, they celebrated their marriage over three days of events, with their nearest and dearest.
Starting with a cocktail party two nights before their wedding – this took place in the grounds of Villa La Zambonina, with plenty of Aperol Spritz on tap!
The wedding day! Anna looked breathtakingly beautiful as expected, and Thom scrubbed up well too 😉 The day began with a short but sweet ceremony, with lots of giggles thanks to the translator. Followed by a drinks reception, and then my favourite part of the day….The Italian Feast!
Let me start by introducing Anna properly, then you will understand my excitement over this incredible feast we had. Anna Barnett, otherwise known as Anna Barnett Cooks, writes her own cookery books, food blogs for the likes of The Independent and hosts pop up restaurants and events. Her work is amazing, and the menu that Anna put together for their wedding was so so good. I keep dreaming/drooling about it!
After a truly amazing feast in the beautiful Italian Gardens, and not forgetting Thom's great speech, which included a rendition of R Kelly's 'Bump N' Grind'…amazing! We were then greeted with the largest cheese board I have ever seen, whilst the music was turned up a notch and everyone danced the night away.
Final day of the wedding celebrations – THE POOL PARTY!! Inflatable pizza slices and flamingos, magnums of Aperol, great music and once again the food was insane. Caterers provided slice after magnificent slice of fresh pizza…cooked in front of us, by the pool, in a pizza oven.
Anna and Thom I wish you a lifetime of happiness…and thank you for letting me be a part of your special day xxx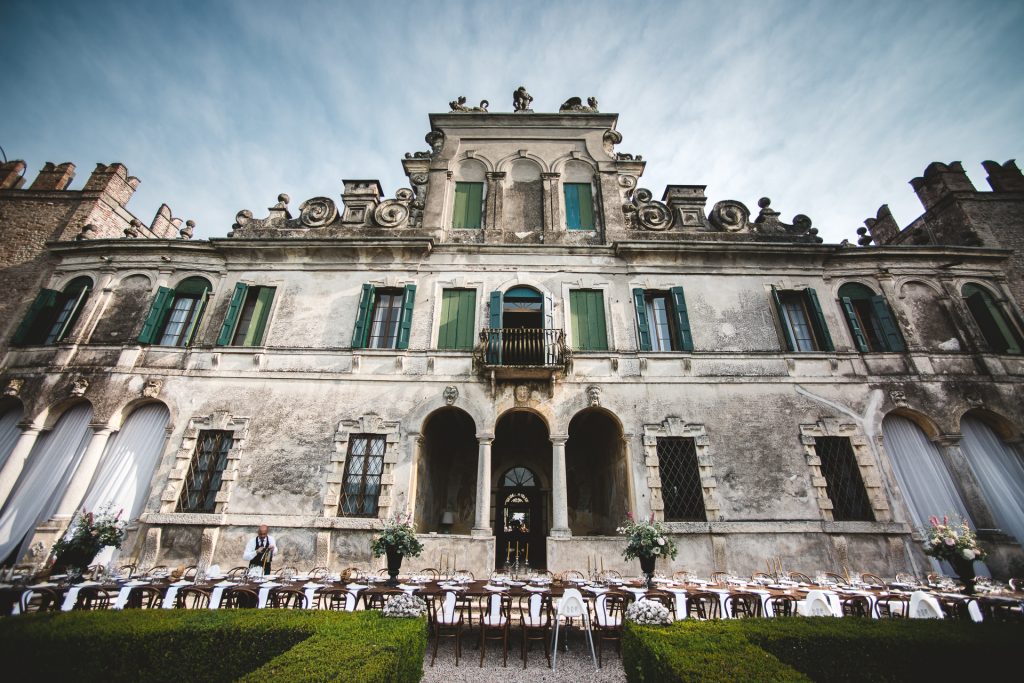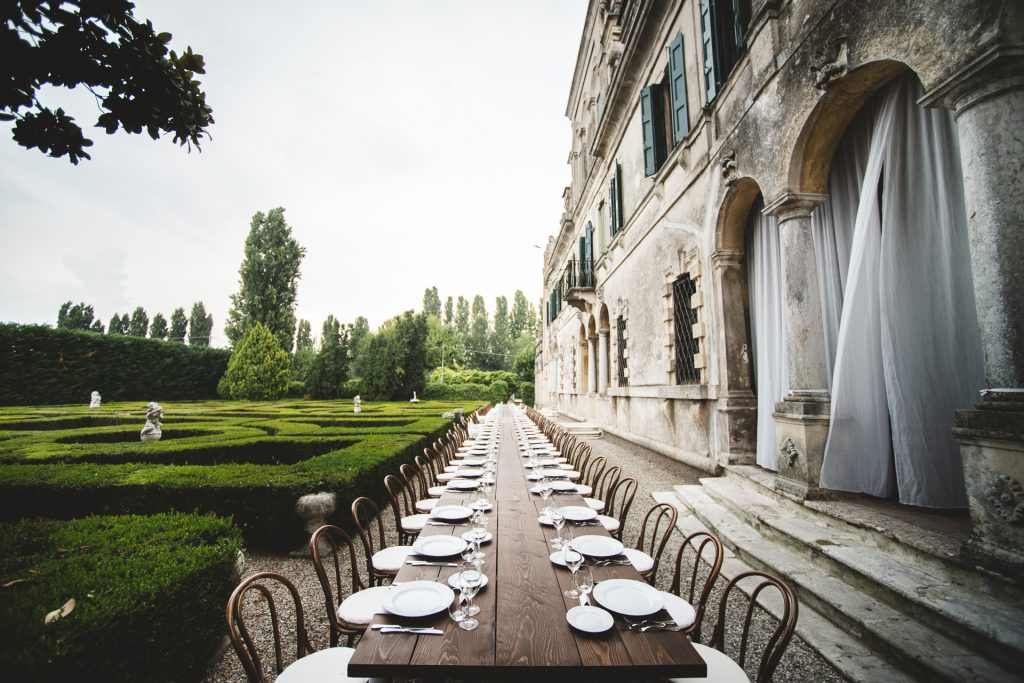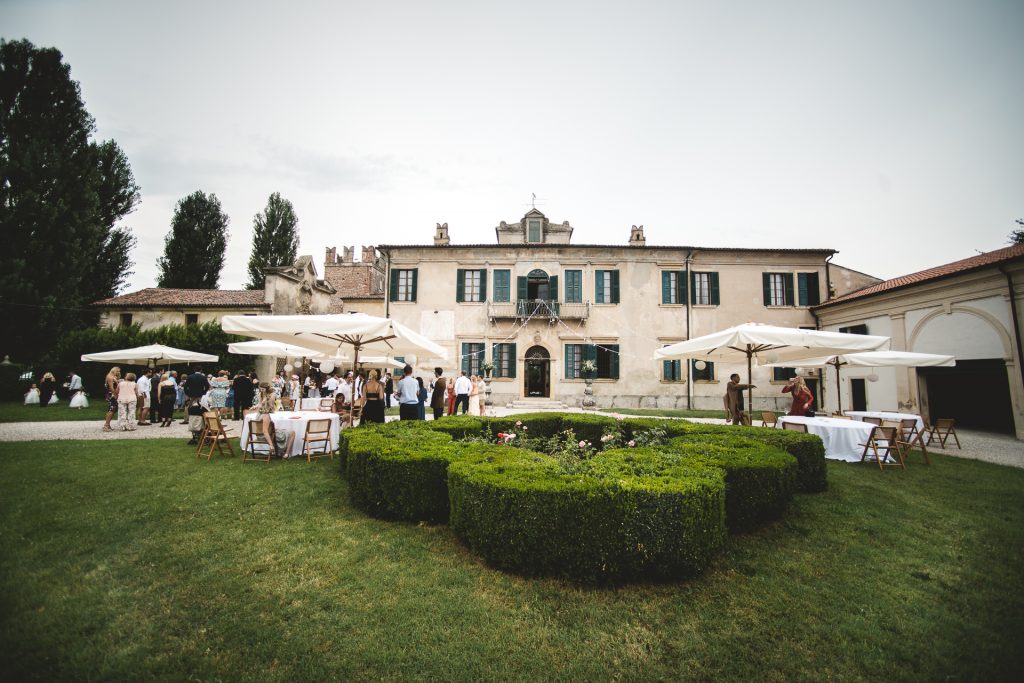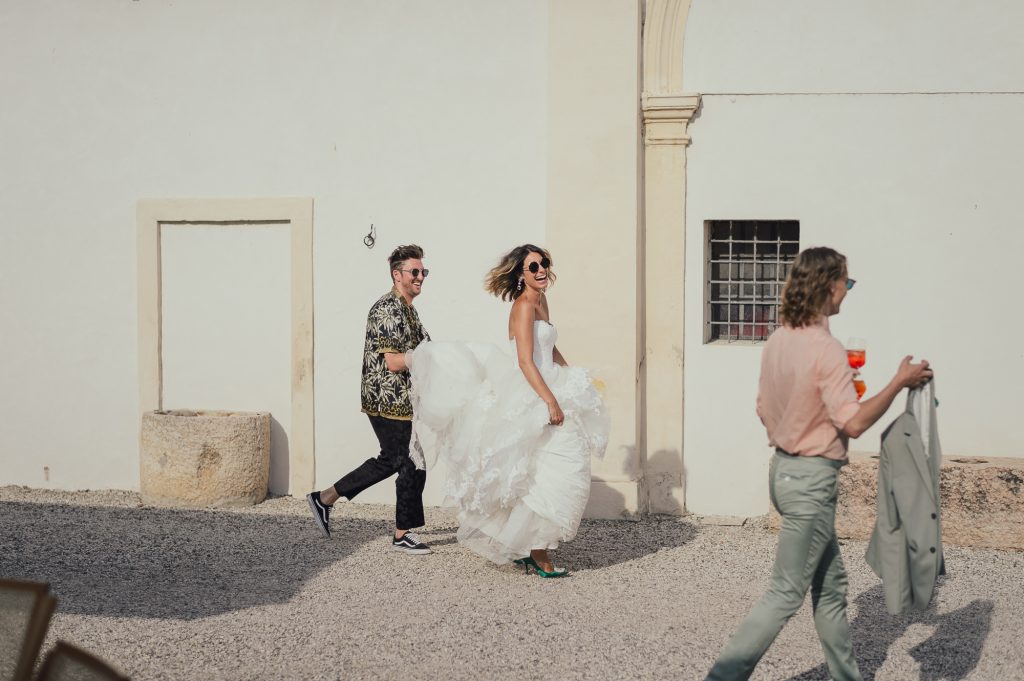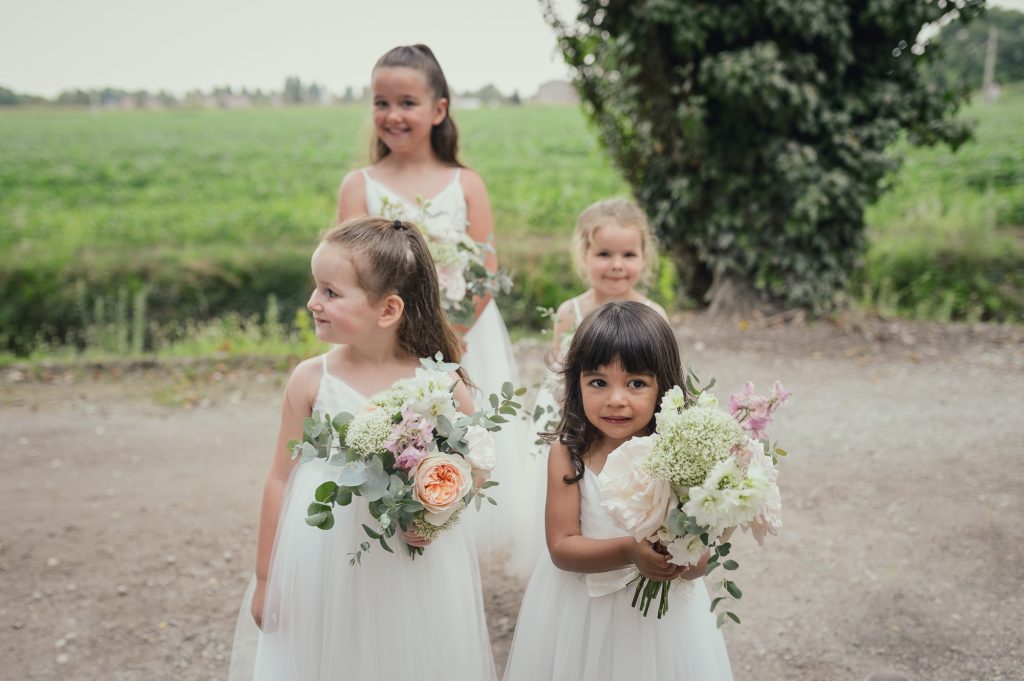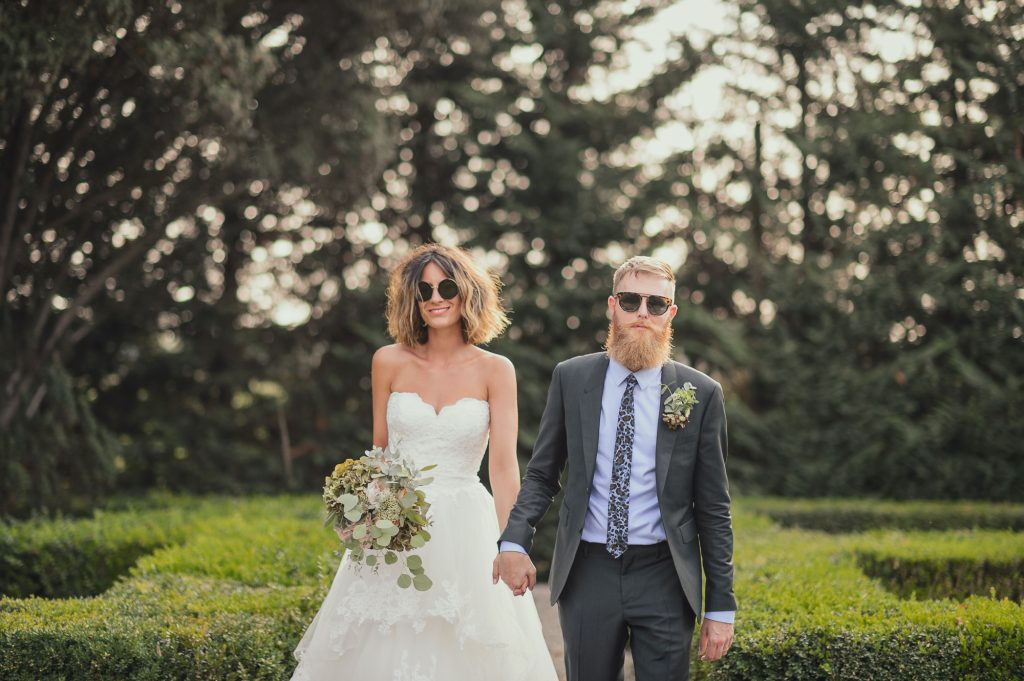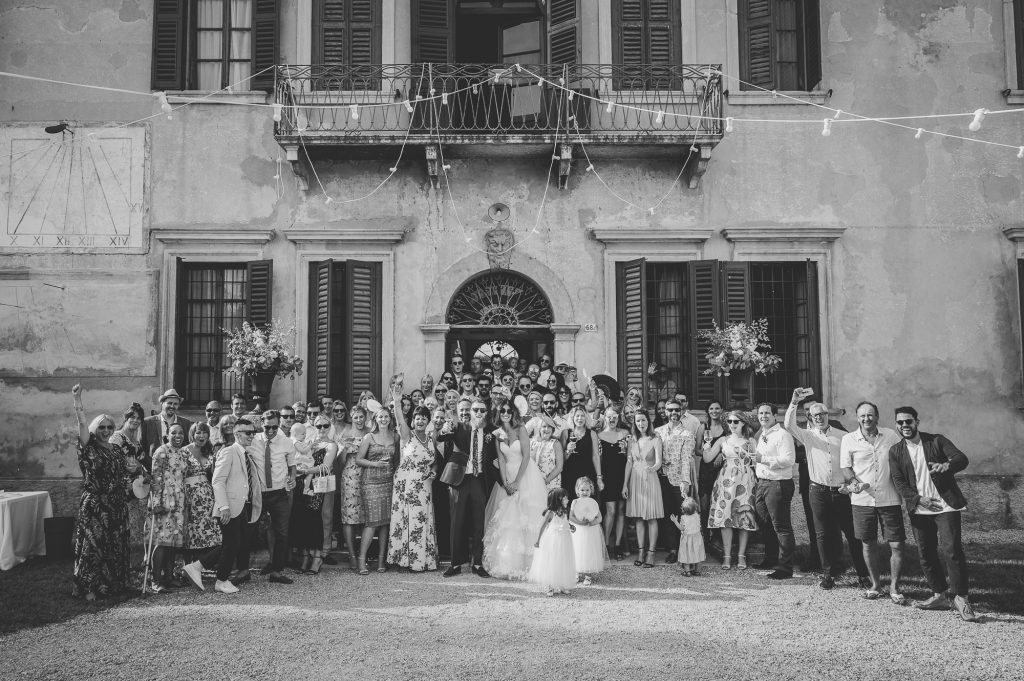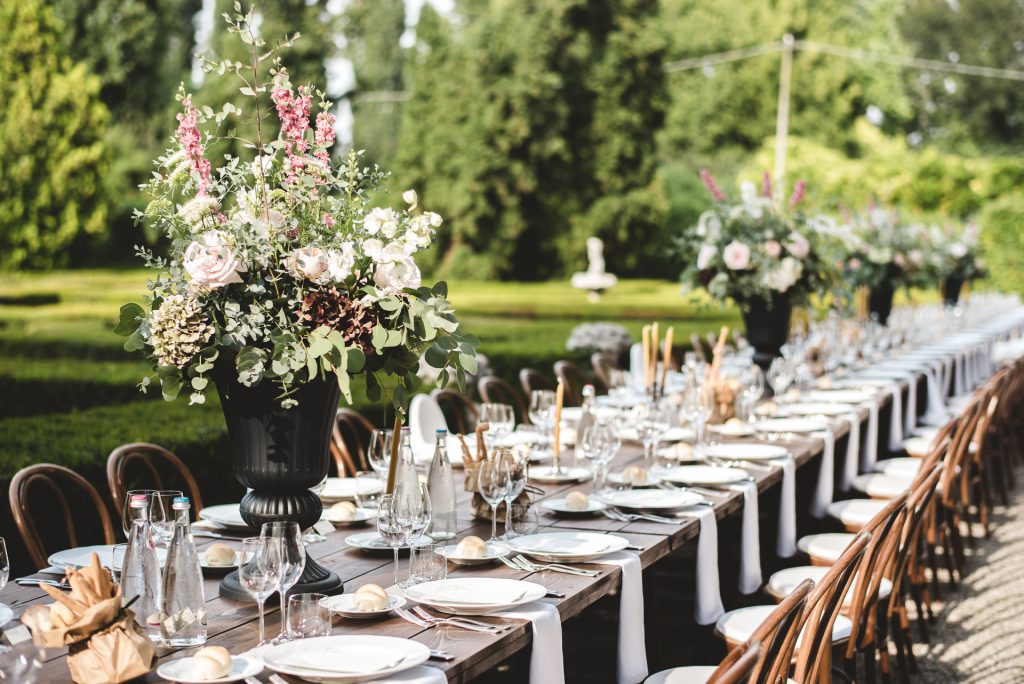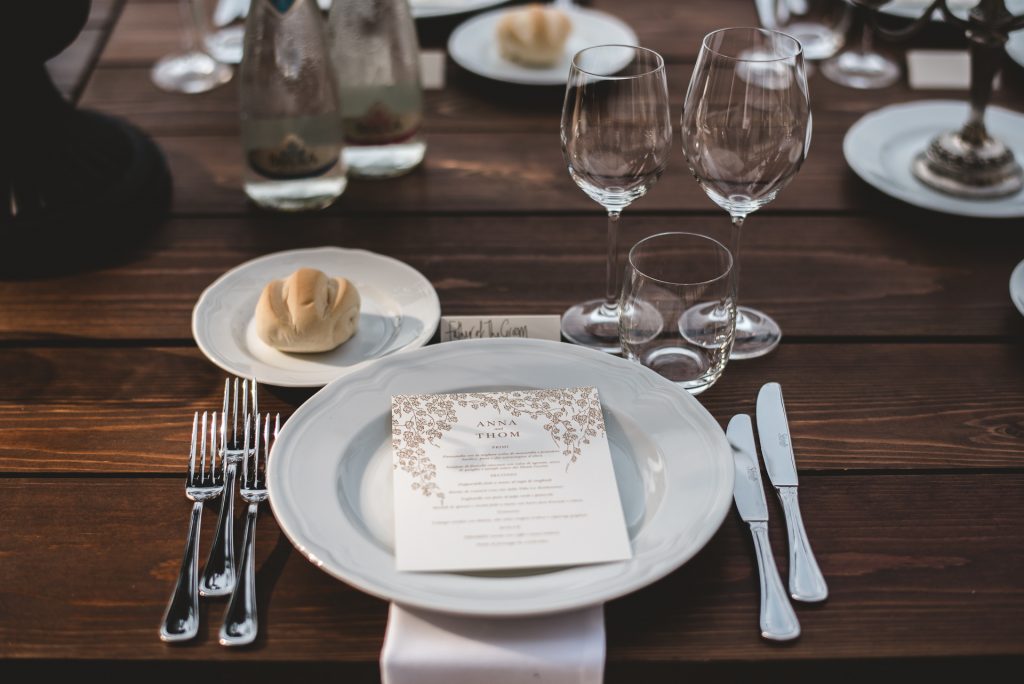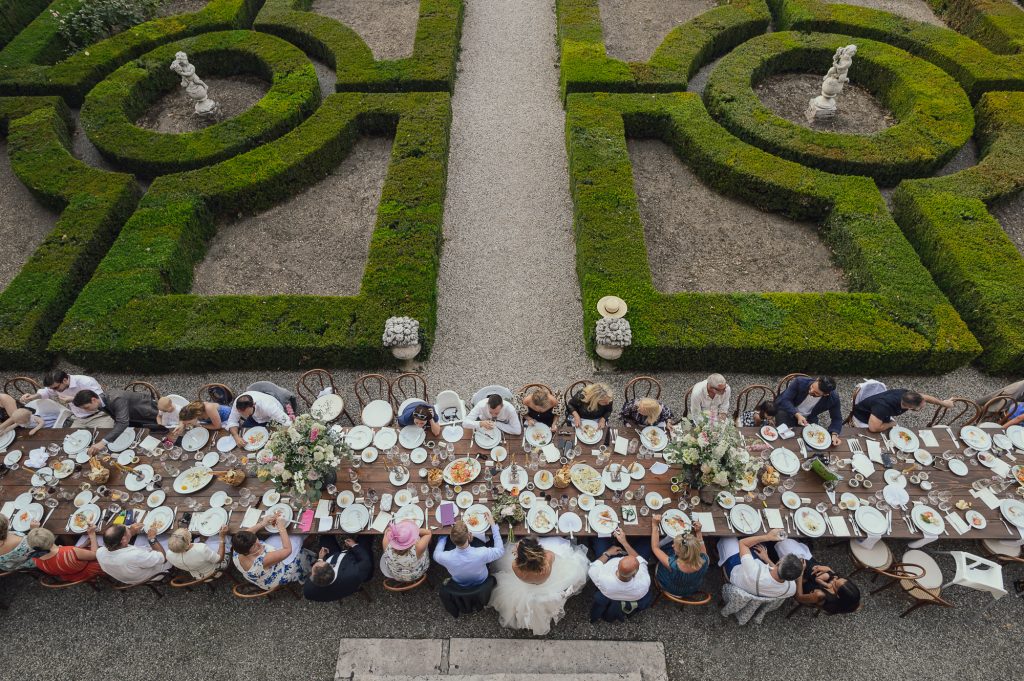 Photography credit: Tregnaghi Caterers
---
Festival Vibes – Themed Wedding Inspiration
I've attended many a festival since my early 20's, and I think 2016 is the first year I haven't/won't be attending a festival…boo hoo. So I've decided to blog about a festival themed wedding instead…
This one's for all you festival goers…eat sleep rave repeat!
Tipi's are the ultimate festival wedding venue. Make sure you fill them with fairy lights and line pathways with lanterns for an enchanted vibe once the sun goes down. No matter what size your wedding is, a Tipi is still the answer, as they link Tipi's to one another to create a larger space. This means you'll have plenty of cosy corners that you can turn into chill out areas…bean bags, shishas, Moroccan lanterns and rugs…actually don't make them too great, you'll never get your guests on that dance floor!!!
Let's start with wedding stationery. Just think lanyards, wristbands and programs, in bright hippy colours, or go for rustic boho vibes. A lanyard style wedding invite is fantastic. You can produce lots of laminated cards hanging from the lanyard, with all the relevant information regarding your wedding.
There's no time for a three course meal at a festival. So why not offer a relaxed way of eating, and of course alfresco (weather permitting), by hiring some quirky food stations/vans. For example a fish and chips van, outdoor pizza oven station, ice cream van, hog roast, the list is endless.
Forget waiter service and bars for your festival drinks reception. Create self-service stations, like a pimp your Prosecco bar or beer barrows. You could even pre-mix your very own signature cocktails, and serve them from large tapped drink dispensers. Keep costs down on glassware, and give everyone their very own glass for the day with a name tag…refill heaven!
You are never short of entertainment at a festival! You could go a bit circus with this and have fire performers and stilt artists. Or go all fairground with some outdoor games like welly throwing and a coconut shy. Live music is a must! But you can of course incorporate a DJ, recommended if you want to rave until the early hours. After all you're in the middle of field…and festivals never sleep!
Go for a laid back vibe when it comes to your attire. Brides think Boho, my favourite look by far! Think simple lace dresses and loose hair with flowers and plaits. No festival is complete without wellies, provide them for your guests also. There's your wedding favours sorted!
Photo credits left to right: Boho Bride, Chill Out Area, Tipi, Beer Barrow, Tipi, Glass for the Night, Pimp your Prosecco, Wellies, Wood Fired Pizza, Lanyards, Wristbands, Ice Cream
---
Something About Place Settings
I'm a big fan of place settings, and you should be too! After all, your guests spend a good chunk of your wedding day sat at their allocated place, so why wouldn't you make it as pretty as can be?
Give your guests something to talk about other than your delicious wedding food…or perhaps distract them from the not so great food (really hope that doesn't actually apply to anyone out there)
Place Settings
When I say place settings I'm referring to the place cards, linen, cutlery and placemats. Centre pieces, favours and table numbers are a whole other wedding matter, which I'll blog about another day…and at the rate my blogs are posted we're probably talking 2018!?
Napkins/serviettes whatever you like to call them, are often neglected. It's so easy to incorporate these with your place cards…you can make your place cards place tags and have the ribbon/twine of the place tags tied around the napkin. Or turn your napkins into pockets to hold your menus, or perhaps a personalised note to your guest (I'll discuss personalised touches some more shortly). You can even print onto napkins and save on your extra stationery! My personal fave is to have a thank you to your guests printed onto a napkin, and have this trailing over the edge of the table…so pretty!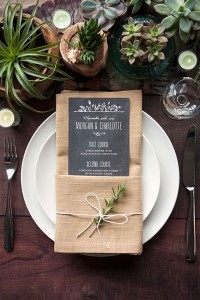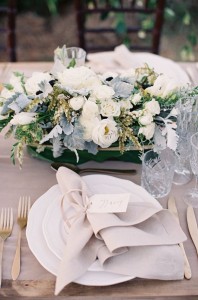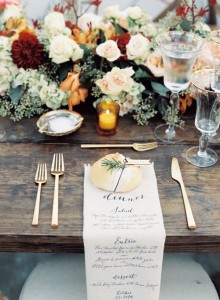 Place cards – try to keep these in line with your wedding colours/theme. Make sure these can be easily seen by your guests, otherwise you might end up with an awkward seating arrangement. It probably took you countless hours and a few lovers tiffs arranging that table plan, so don't go and ruin it by blocking place cards with a candle holder!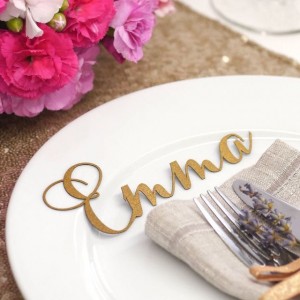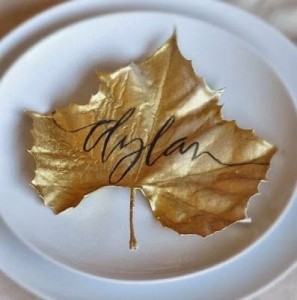 Placemats – not always needed, however if you're the creative type then give these some thought. You can really add to your theme with these! For example if you're having a glam chic wedding you can never go wrong with metallic, or beaded charger plates. Or if you're having a rustic wedding then slate placemats would look fab. Or go a creative step further with log placemats!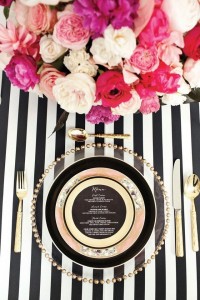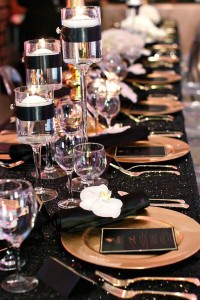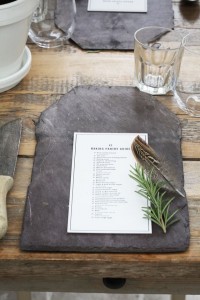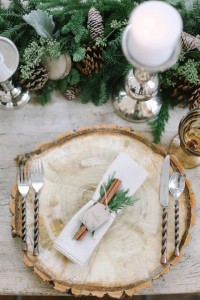 Cutlery doesn't have to be boring, and don't be afraid to ask your caterer about hiring something you've seen, if you're not keen on what they have to offer! Go for gold or rose gold if it ties in with your theme. If your tables are feeling cluttered, have the cutlery sit within your napkin. Or if you're having place tags then you can tie these around your cutlery, and position them in the centre of your placemat.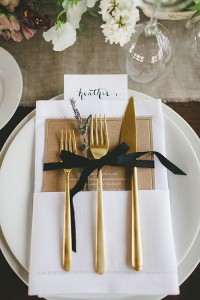 Now lets talk personalisation. Take time to make your guests feel loved! Let them know what they mean to you by adding personal messages to their place settings, whether it be in the form of a thank you note, or even a quote or saying that they would relate to. It doesn't have to be a "pass me the sick bucket" type of note, it can be funny too…however you do it, trust me, they'll notice and appreciate!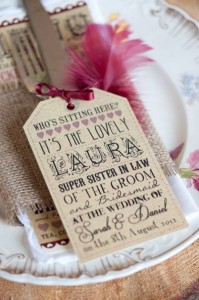 Photo credits top to bottom: pocket napkin, name tag napkin, printed napkin, laser cut place card, leaf place card, beaded charger plate, gold charger plate, slate plaemat, log placemat, gold cutlery, rose gold cutlery, name tag cutlery, personalised note
---
Something at Hedsor House
On the 28th December 2015, Ben & Sabrina celebrated their wedding at the stunning Hedsor House.
Ben & Sabrina hired me for my 'Something Partial' Package…however (and I'm sure they would agree) this became more like my 'Something Last Minute' package! With only 3 months to plan,  not forgetting that Ben & Sabrina lived 3500 miles away in Toronto, Canada, we had a big task on our hands….oh & Christmas showed it's big red face during this time too! But as you can see from the photos the final outcome was an incredible wedding at Hedsor House.
The theme was a hint of Gatsby Glam in a romantic Wintry setting. Sabrina's fun side added lots of deep purples & pinks to the wedding, in the form of flowers and lighting.
A romantic ceremony consisted of a candle lit aisle & a stunning 7ft cascading tree. Hanging from the chiavari chairs were vintage frames containing photos of Ben & Sabrina growing up. A string quartet set the mood, performing from the balcony above.
To keep guests entertained during the drinks reception at Hedsor House, they were provided with an instant camera to take photos of themselves, & peg them to a clothes line frame…endless fun! There was also a huge calendar for guests to sign on their Birthdays, so Ben & Sabrina could stay in touch with Birthday wishes from Toronto.
The wedding breakfast had the Gatsby vibe! Amber lighting & banquet tables filled with tea lights & candles created an extremely opulent setting in the Ballroom of Hedsor House. Traditional table numbers were replaced with places that meant something to Ben & Sabrina, such as London, Toronto & Nairobi. Guests were very much looked after again with fun advice cards on the tables, lovely candle favours and a beautiful thank you note at each place setting.
We added a touch of India into the decor (due to Sabrina's heritage) by having large hand painted henna candles on the banquet tables. Ben & Sabrina once lived in Africa, so for an African twist we lined the main staircase with Moroccan lanterns.
The all important cake consisted of 100 cute purple & pink cupcakes, with a Toronto skyline cutting cake. Guests then danced the night away on a glam black & white dance floor, with vibrant pink & purple lighting, & an enormous light bulb S&B backdrop.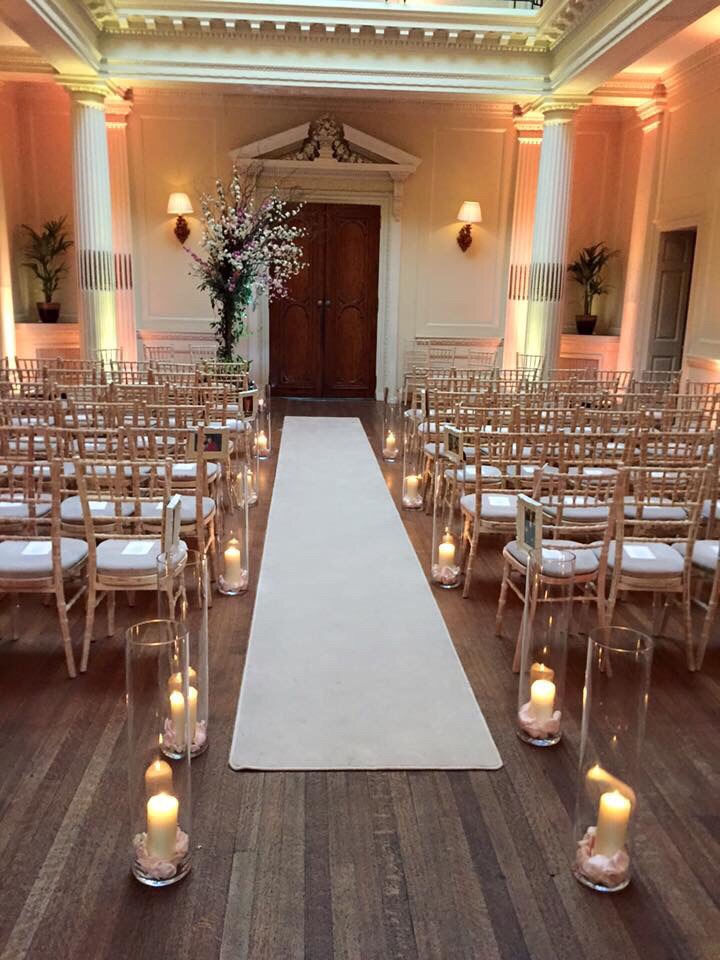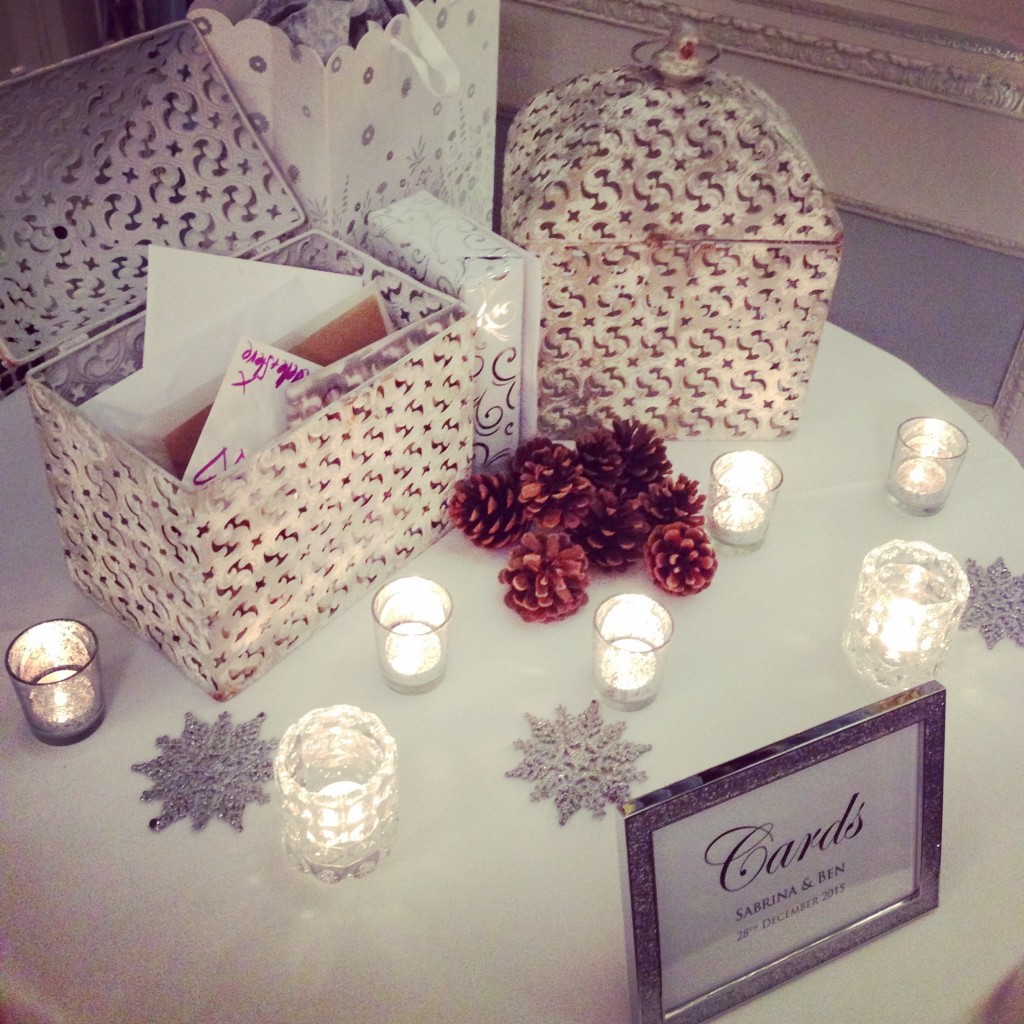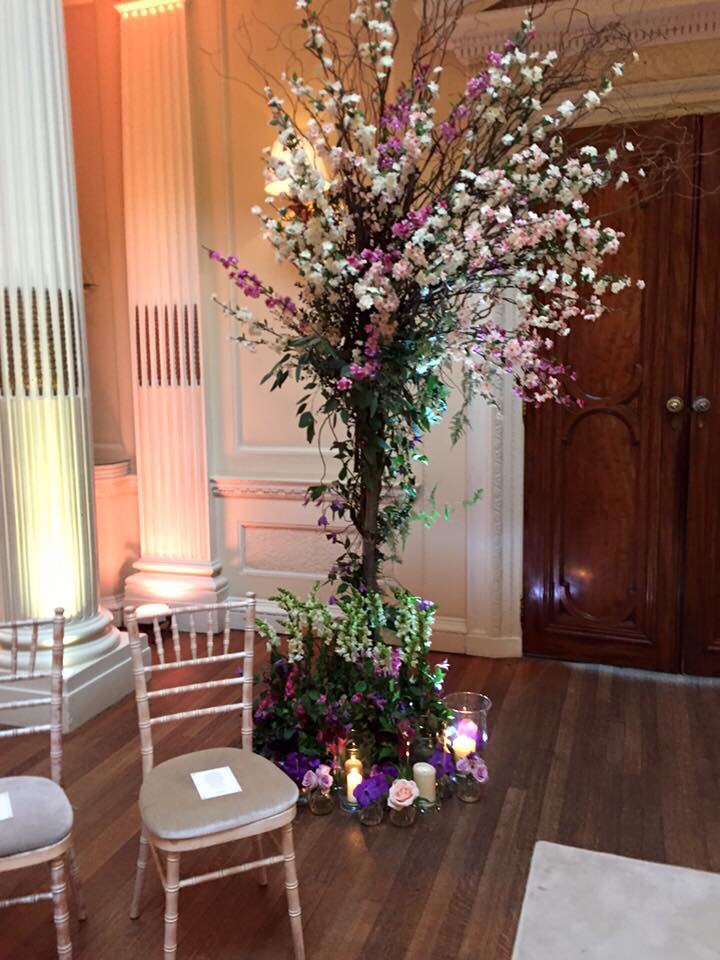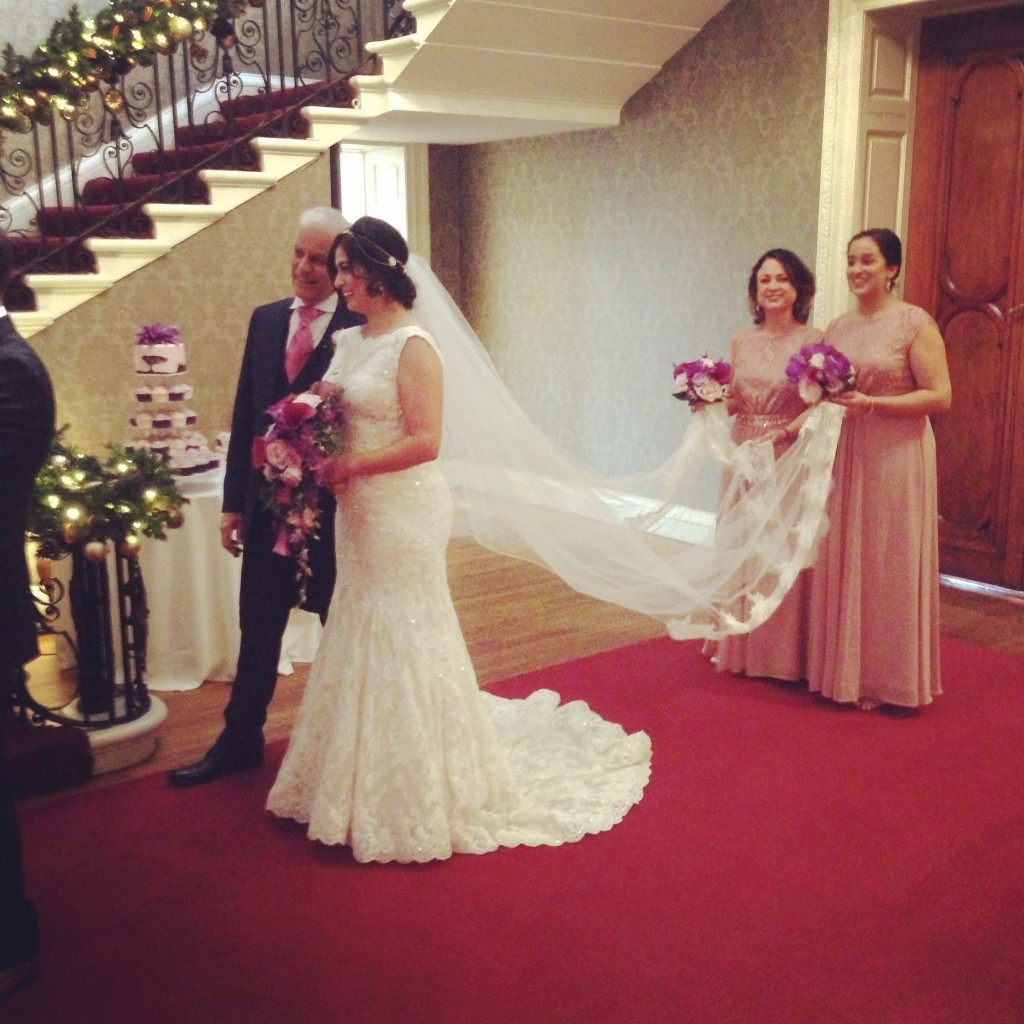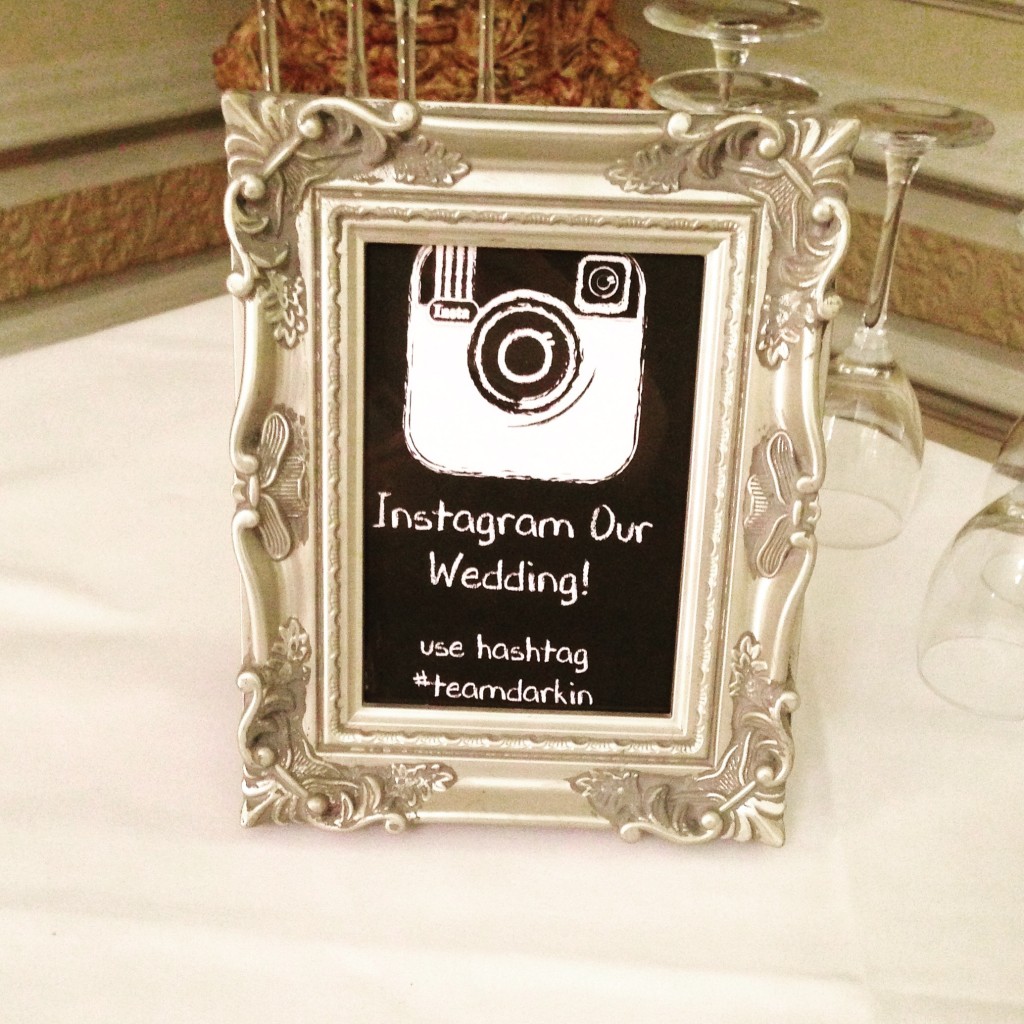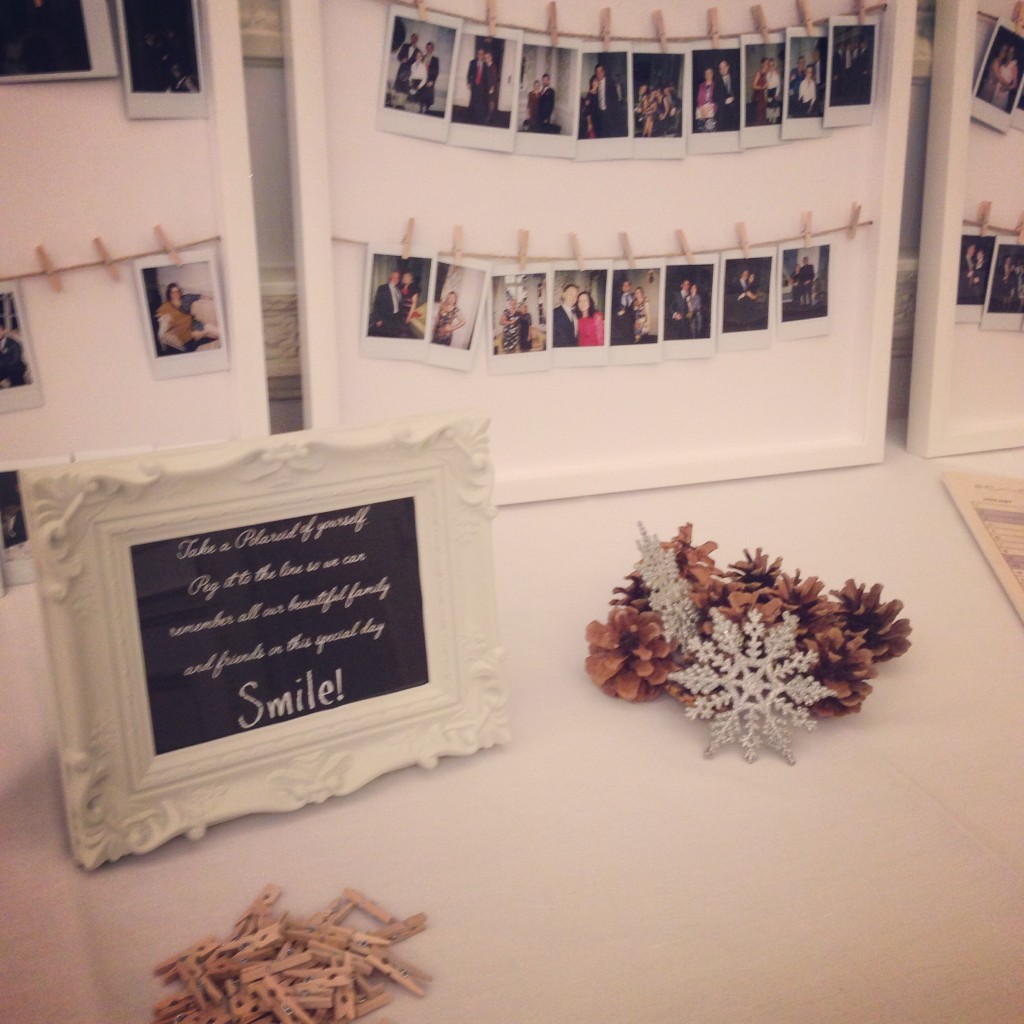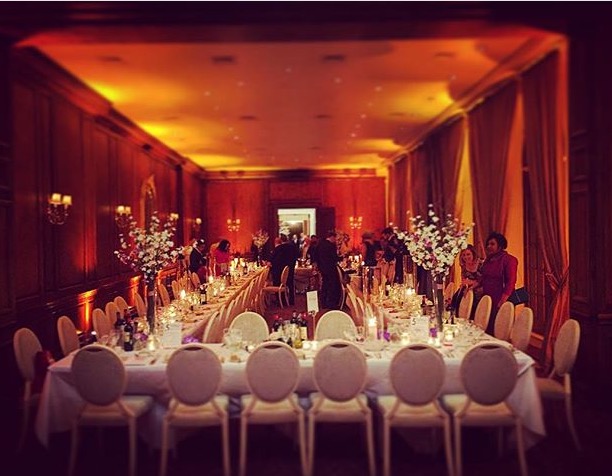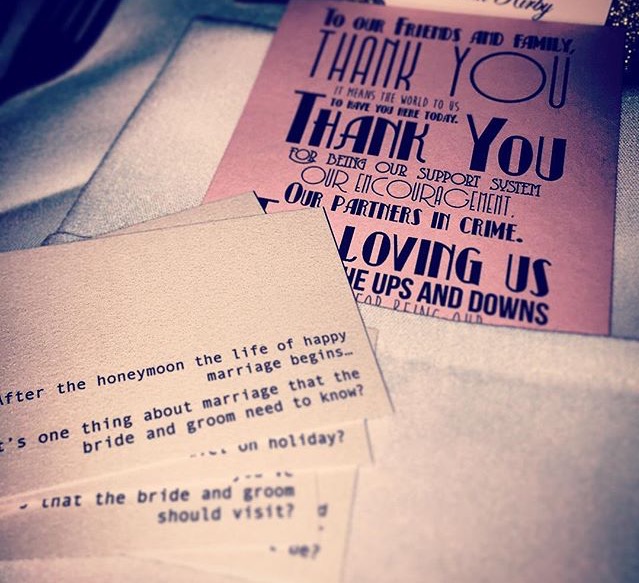 ---
Something Industrial and Chic
I recently had an enquiry for an Industrial Chic themed wedding, so I thought I would share with you my Industrial Chic mood board and advice!
I love the idea of mixing wood and metal with the furniture to create an industrial look, but of course this isn't something you will find on the usual wedding hire sites. You will need to think outside of the box when it comes to this theme…or hire a wedding planner…wink wink nudge!
There's a few quirky prop suppliers out there who can produce some amazing light installations, as shown in the photos below. Hanging light bulbs are high on the Industrial Chic list. If these are hard to come by, you can always create hanging jars with candles inside. They look so romantic, therefore making your theme more cutesy.
Table décor should be kept to the obvious industrial materials…tin/copper cans, glass, mason jars, nothing too bling-y or glam. But of course add some pretty flowers and candles to create a trendy but beautiful space. Adding pops of colour, like bright blues, yellows and pinks gives a fun feel to the décor. You can do this through your choice of flowers, or perhaps the serviettes, place settings or seat cushions?
Light up your room with a giant light sign. Whether it be the traditional LOVE sign or the happy couple's initials (e.g. S&L). Or perhaps something more quirky like a BAR sign as shown below. Your photographer will love you, you've just given them the best prop ever!
My Industrial Chic wedding venue crush is MC Motors. This is a 6000 sq/ft warehouse in East London. One benefit with this venue, is the sky lighted roof that allows plenty of natural light to fill the venue, unlike most Industrial Chic looking venues, which tend to be very dark and gloomy. Best of all the venue comes with its very own quirky and fabulous props!
If you manage to find a venue with exposed brick walls, you're onto a winner for your Industrial Chic themed wedding. Just add elements of the above and below examples, and be sure to send me some snaps …pretty please xx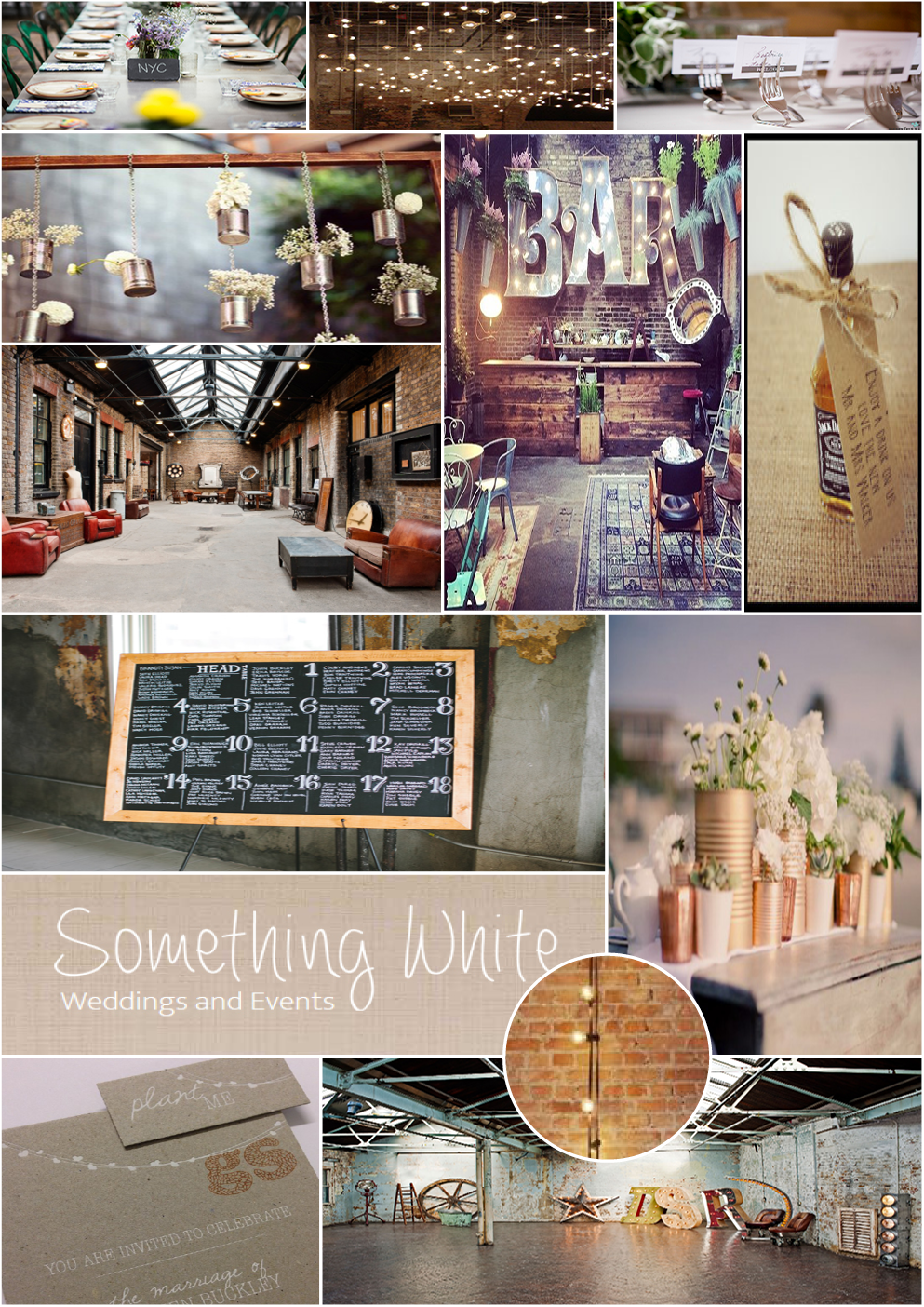 Photo credits left to right: Long Table, Hanging Light bulbs, Place Holders, Hanging Tin Cans, MC Motors, Bar Sign, Chalkboard Table Plan, Tin Can Centerpiece, Invite, MC Motors
---
Something About the UKAWP
I am proud to announce that I am now a member of the UKAWP! Woohoo! Well actually I have been a member for just over a month now, but due to my globetrotting month of May, I have only just returned to London.
In case you haven't heard of the UKAWP, which stands for UK Alliance of Wedding Planners, here's a little something about them;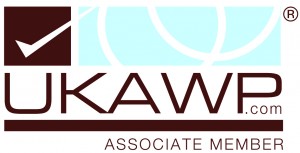 The UKAWP is run by Sandy & Bernadette – two very successful wedding planners. Their reason for starting the UKAWP was to create an industry of talented wedding planners, who could offer the highest level of service for today's brides and grooms.
Brides and grooms can search the UKAWP website for wedding planners in their area, and it gives them the peace of mind knowing that they will find an approved and trained wedding planner. They also provide guidelines on how to select a wedding planner.
Wedding planners that are members of the UKAWP are given plenty of support, and advice if needed. The UKAWP holds regular meetings and workshops, providing lots of new skills to be learned and helping their businesses to grow.
Each member of the UKAWP must adhere to the following Code of Business Practice;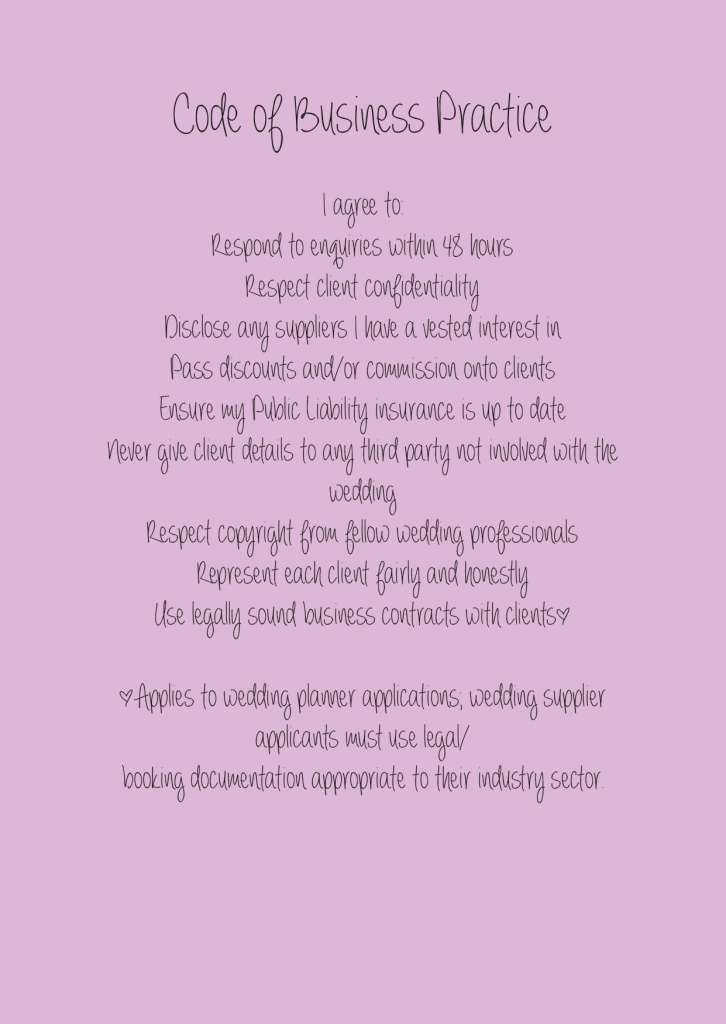 I am so excited to be a member of the UKAWP! To have the support and advice from like-minded individuals going forward is a huge benefit.
At the moment I am working on a variety of mood boards, for some exciting new enquiries. Keep an eye on my blog, as I hope to be publishing these mood boards on a monthly basis!
……..Exciting times ahead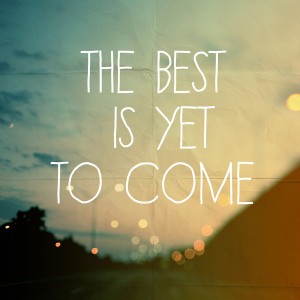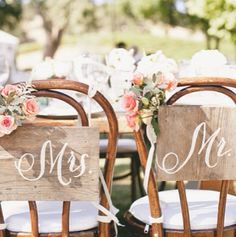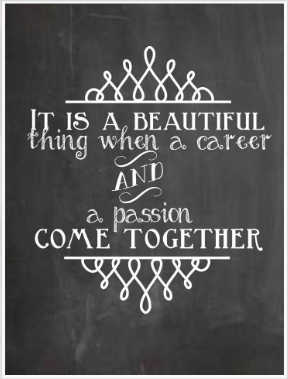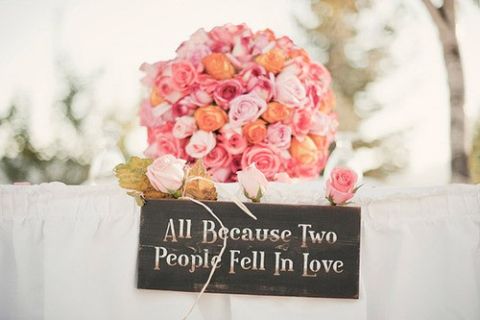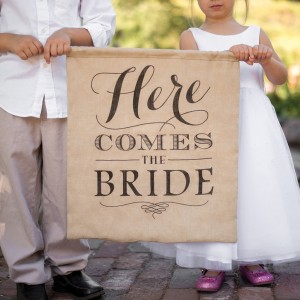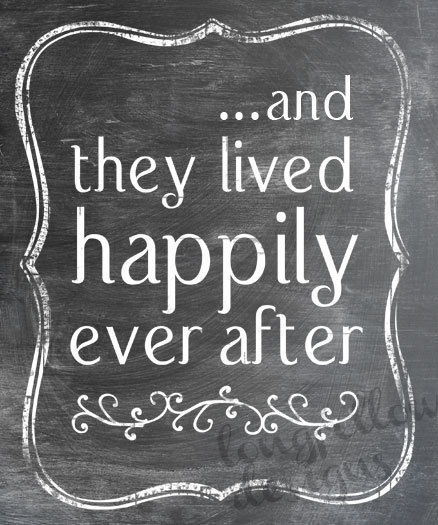 ---
Something at Cooling Castle Barn
30th August 2014 at Cooling Castle Barn, Katie and Ed got hitched!
Katie and Ed had pretty much everything sorted, but got in touch for some guidance on their budget allocation, timeline and some on the day coordination.
They were lucky enough to have the sun shining all day, so they made good use of the grounds of Cooling Castle, for a bubbly reception and photos. The venue was filled with cream and blush flowers and diamante center pieces; it was absolutely stunning as you'll see for yourself in the snaps below….
One of my favourite finishing touches were the Table Names…each table was named after a Festival! Kate and Ed first laid eyes on each other at Global Gathering Festival, so there were lots of 'ahhhhs' when everyone noticed the table names.
The very talented Nigel Barrett was their photographer for the day, he was absolutely amazing at getting everyone together and ensuring every wonderful moment was captured, I highly recommend!
There was a string quartet for the ceremony and champagne reception, they created a very romantic atmosphere for the ceremony, and I noticed lots of happy tears around the room. A band played for the evening reception which got everybody up on the dance floor until the early hours.
I remember Kate umming and arring over, was the amazing giant LOVE sign (seen in the photos below). There was the usual threat of typical English rain on the day, which if it had rained it would have meant that the LOVE sign needed to stay inside the venue, but there wasn't a lot of space for this. Thankfully Kate decided to take the risk, and I'm so glad she did, as the sun was out all day and so was the LOVE sign. Great photo opportunities were had by all, and I'm sure I caught a few tipsy people falling through the O towards the end of the night…brilliant!
Oh and how could I forget, a wow factor wedding cake made of cheese……..a huge one!!!!!!
Photography Credit: Nigel Barrett Photography
---
Something from San Francisco
On a recent visit to San Francisco, I happened to come across a wedding!!! So thought I would share a photo, but also some other pretty pictures from my San Francisco visit…
I was lucky enough to attend a music festival whilst I was there, being a festival lover this was a highlight of my trip. Especially because I have only ever attended UK festivals, so to be watching acts on stage surrounded by palm tress, and an amazing sunset over the San Francisco skyline behind me, was very surreal.
Being in America and it being October, everywhere I looked it was Halloween. The typical giant American houses, with their Halloween decorations and pumpkins outside, brought back childhood memories of the film 'Hocus Pocus'. I wish I could have actually been there for Halloween night.
Oh and the Giants (baseball) made the playoffs, so every night I was there it seemed as though everyone was out celebrating!
I walked up Lombard Street (the crazy winding steep road), the hills in San Francisco are unbelievable, I don't think I would be brave enough to drive up those, they felt almost vertical!!
I also visited Alcatraz which was amazing, and very very eerie…after 4 days of gorgeous San Francisco sunshine it decided to rain on the morning of my last day there (which is when i went to Alcatraz), so it was dark, gloomy and cold, which added a good effect to our spooky tour of the former prison.
My favourite day had to be cycling over the Golden Gate Bridge and into Sausalito…the cutest place ever. It was like I'd left San Francisco and ended up in a European city by the sea. Anyway enough bragging, here's my pics…….enjoy x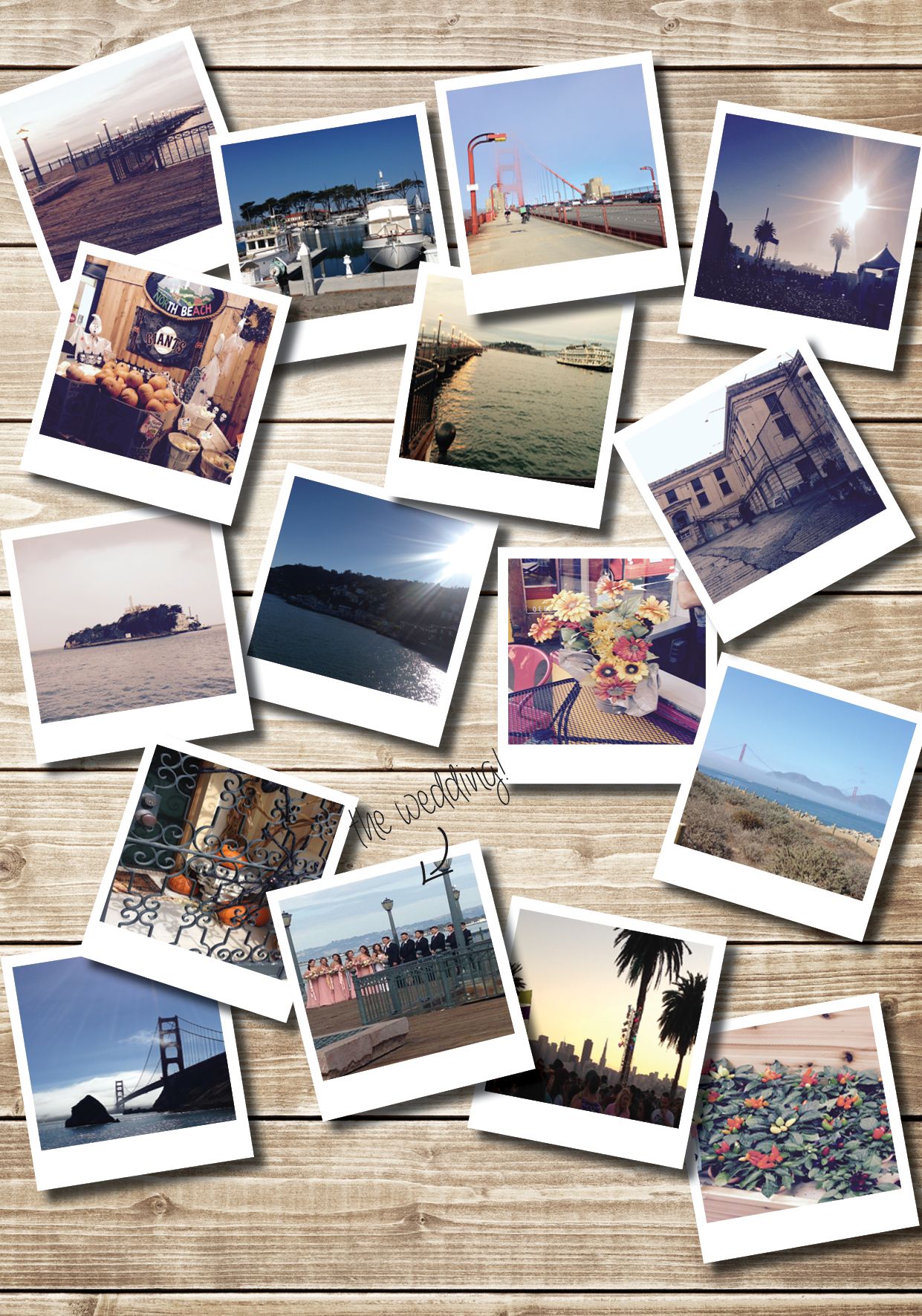 ---
Something for a Halloween Themed Wedding
Halloween tomorrow!! So here's some ideas for a Halloween themed wedding….rather than scaring your guests I'm thinking subtle Halloween inspired decor, keeping it classy. I love the all the different ways you can involve pumpkins within the theme, especially the white coloured squash if orange is a bit garish for you!
From pumpkin lined aisles to pumpkin place card holders, the list is endless!
With the season being autumn why not keep your colour theme to burnt oranges, rustic browns and greens. Or go for lighter shades like peach with rustic browns or yellows. If you are having an outdoor wedding hopefully fall leaves will be covering the grounds, which will create a magical setting alongside pumpkins and lanterns.
Orange and black are the obvious Halloween colours, so why not use these colours to involve the theme within your food…maybe not a lot of black!? But for example orange coloured macaroons as shown below, pumpkin soup…you can even serve this in pumpkins? Orange and black cupcakes, Aperol Spritz cocktails for your champagne reception (a brightly coloured orange cocktail consisting of Aperol, Prosecco and soda) – delish!
Don't forget the ever so popular wedding sweet table can now become a trick or treat table. Provide your sweet toothed guests with Halloween style sweet bags, to fill with sweets and take home, or to just scoff at your wedding!
Wedding favours – it couldn't be easier to keep within this theme. Toffee apples, Halloween style sweet bags or boxes filled with treats, miniature pumpkins (otherwise known as munchkins), little stacks of honeycomb, pretty much anything that takes your fancy – you can add Autumn/Halloween coloured ribbons / decorations / packaging to this.
Happy Halloween xx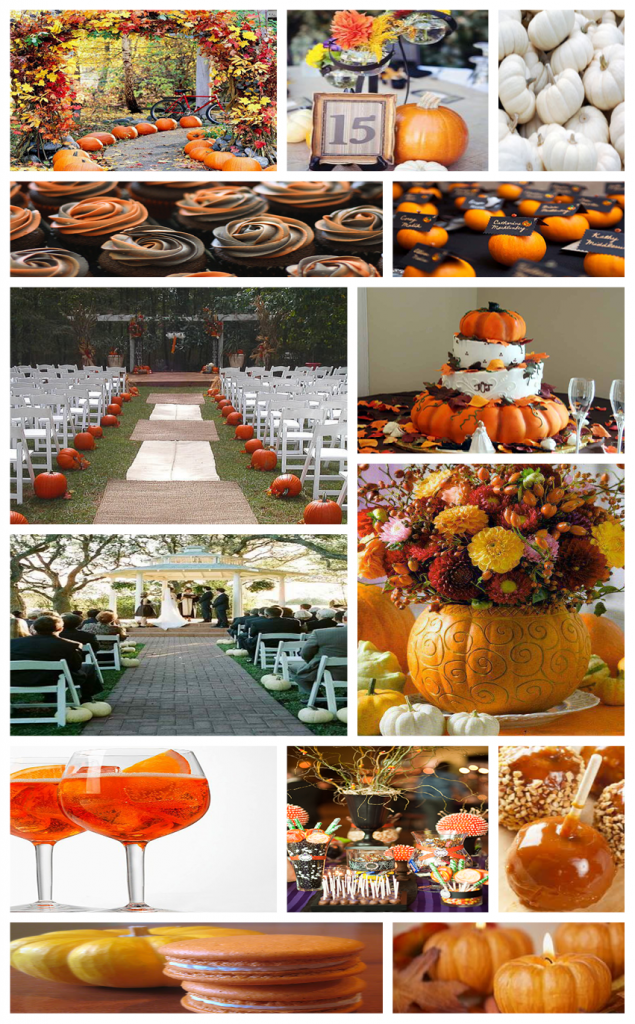 Photo credits left to right:  Pumpkin Aisle, Table Number, White Pumpkins, Cupcakes, Place Cards, Pumpkin Aisle, Cake, White Pumpkin Aisle, Pumpkin Vase, Aperol Spritz, Sweet Table, Toffee Apples, Macaroons,  Pumpkin Candles
---